Enhancement of Latvia - Lithuania interconnection
Enhancement of Latvia-Lithuania interconnection (further referred as "the Project" or "ELLI") was included into the third PCI List adopted by the European Commission on 24 November 2017, in the BEMIP (Baltic Energy Market Interconnection Plan) Gas priority corridor. ELLI Project is an important element for completion of the EU internal energy market.
The current interconnection capacities and limited operating pressure (40 bar) in Latvian pipelines in the whole route from Lithuania to Estonia will limit the crossborder trade between the Member States. The implementation of the ELLI project will eliminate the existing bottleneck between Latvia and Lithuania and will enhance the operating pressure up to 50 bar in Latvian pipelines that are relevant for cross-border flows between EU Member States. It will also increase diversification and security of supply, enhance the competition in the gas market, provide the opportunity for better capacity usage of Latvia's Incukalns underground gas storage for Lithuania and Poland, and use of gas import routes via LNG terminal in Klaipeda (existing) and via Poland (from 2022) for Latvia, Estonia and Finland. The Project will serve for better integration and functioning of the gas markets of the Baltic States, Finland and overall BEMIP region.
The Feasibility Study and Cost Benefit Analysis for the Project was carried out in 2018. It identified the optimal technical alternative to implement the Project. The construction works will comprise the enhancement of the operating pressure up to 50 bar of the pipelines Rīga–Panevėžys, Rīga–Inčukalns UGS line I, Rīga–Inčukalns UGS line II, Voldaj–Pskov–Riga, Izborsk–Inčukalns UGS and Vireši–Tallinn on the territory of Latvia, as well as increase of capacity of Kiemenai Gas Metering Station and readjustment of piping of the Panevezys Compressor Station on the territory of Lithuania.
The current capacity of the cross-border point is limited up to 67.6 GWh/d from Lithuania to Latvia, and 65.1 GWh/d from Latvia to Lithuania. The expected capacities after the above mentioned infrastructural changes in the LT->LV direction will be 130.47 GWh/ d, while in the LV->LT direction - 119.53 GWh/ d i.e. the capacities in both direction will be increased roughly two times.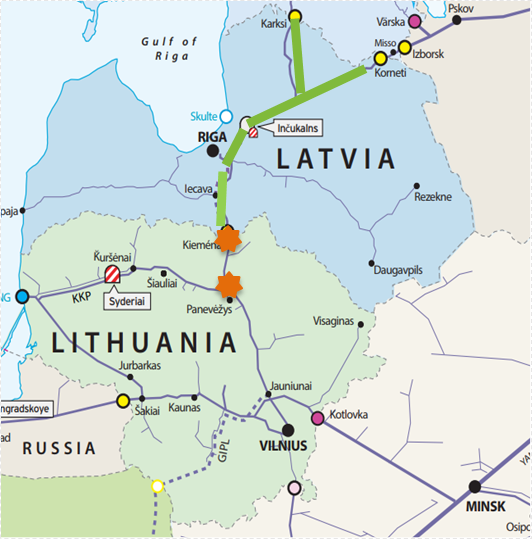 You will find project infographics HERE.